SONY or GSENSE Back-illuminated CMOS
USB3.0
Real-time 8/12bit depth switch
CNC aluminum alloy housing
BigEye Series adopt SONY Exmor CMOS sensor as the image-picking device and USB3.0 is used as the transfer interface.
BigEye Series hardware resolutions range from 4.2M to 10.3M and come with the integrated CNC aluminum alloy housing.
BigEye Series integrated with 12 bit Ultra-fineTM Hardware Image Signal Processor Video Pipeline(Ultra-fineTM HISP VP) for Demosaic, Adjustments, Automatic Exposition, Gain Adjustment, One Push White Balance, Chrominance Adjustment, Saturation Adjustment, Gamma Correction, Luminance Adjustment, Contrast Adjustment, Bayer and finally form RAW data for 8/12 bit output. This will move the heavier burden of the processing from the PC to the Ultra-fineTM HISP VP and greatly accelerating the processing speed.
BigEye Series come with advanced video & image processing application; Providing Windows/Linux/ OSX multiple platforms SDK; Native C/C++, C#/VB.NET, DirectShow, Twain Control API;
The BigEye Series can be widely used in bright field light environment and microscope image capture and analysis with higher frame rate.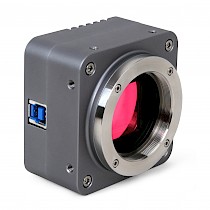 BigEye's different views
BigEye+F-mount BigEye + F-mount+Lens
BigEye with F-mount+Lens BigEye with F-mount and Lens
Dimension of BigEye
The BigEye body, made from tough, CNC aluminum alloy, ensures a heavy duty, workhorse solution. The camera is designed with a high quality IR-CUT or AR glass to protect the camera sensor. No moving parts included. This design ensures a rugged, robust solution with an increased lifespan when compared to other industrial camera solutions.
Dimension of BigEye with M42x0.75 or F-mount Interface
Order Code

Sensor & Size(mm)

Pixel(μm)

G Sensitivity

Dark Signal

FPS/Resolution

Binning

Exposure

BigEye10000KPA

BP910000A(New)

10.3M/IMX294(C)
4/3 "(17.47x12.86)

4.63 x4.63

419mv with 1/30s
0.12mv with 1/30s

[email protected]

[email protected]

[email protected]

[email protected]

[email protected]

1x1,

1x1,

1x1,

2x2,

3x3

0.1ms~15s

BigEye4200KMA

BM94200A(New)

4.2M/GSENSE2020S(M,RS or GS)
1.2"(13.31x13.31)

6.5x 6.5

8.1x107 (e-/((W/m2).s))
Peak QE 64.2% @595nm

DS

[email protected]
[email protected] x 1023

1x1
2x2

0.01ms~1000s

BigEye4200KMB

BM94200B(New)

4.2M/GSENSE2020BSI(M,UV, RS GS)
1.2"(13.31x13.31)

6.5 x 6.5

1.1x108 (e-/((W/m2).s))
Peak QE 93.7% @595nm

[email protected] x2046
[email protected] x1023

1x1
2x2

0.01ms~1000s
C: Color; M: Monochrome; GS: Global Shutter, UV: Good UV response
Spectral response of GSENSE2020e and GSENSE2020s
Spectral Response of GSENSE2020BSI
Other Specification for BigEye Camera

Spectral Range

200-1100nm (UV without IR-cut Filter) or 400-900nm

White Balance

ROI White Balance/ Manual Temp Tint Adjustment/NA for Monochromatic Sensor

Color Technique

Ultra-fineTM HISPVP /NA for Monochromatic Sensor

Capture/Control API

Native C/C++, C# /VB.Net,, DirectShow, Twain and Labview

Recording System

Still Picture and Movie

Cooling System*

Natural

Operating Environment

Operating Temperature(in Centidegree)

-10~ 50

Storage Temperature(in Centidegree)

-20~ 60

Operating Humidity

30~80%RH

Storage Humidity

10~60%RH

Power Supply

DC 5V over PC USB Port

Software Environment

Operating System

Microsoft® Windows® XP / Vista / 7 / 8 /10 (32 & 64 bit)

OSx(Mac OS X)

Linux

PC Requirements

CPU: Equal to Intel Core2 2.8GHz or Higher

Memory: 2GB or More

USB Port: USB3.0 High-speed Port

Display: 17" or Larger

CD-ROM
About the GSENSE2020BSI
Designed with the state-of-art backside illuminated scientific CMOS technology, GSENSE2020BSI is a 4.2 Megapixel sensor with 6.5um pixel size, featuring 94% quantum efficiency and a readout noise of less than 1.2e- with correlated multi-sampling (CMS). Ideal for life science, astronomy and scientific imaging, GSENSE2020BSI also provides a solution for industrial inspection requiring superior UV sensitivity thanks to its high frame rate and global reset rolling shutter. GSENSE2020BSI is pin-compatible with GSENSE2020s and GSENSE2011s, allowing easy hardware integration with minimized development effort, and fast time-to-market.
- Back-illuminated structure 2.4 µm unit pixel
- 10 bit/12 bit/14 bit A/D converters
- Supporting type 1/2 5M effective pixels in 3 formats
- HLP (High Light Performance) mode
- LLP (Low Light Performance) mode
GSENSE2020 is a 4 MP scientific CMOS image sensor with 6.5μm pitch. The sensor can operate in either rolling shutter or global shutter mode. The devices have ultra-low readout noise of 2e- in rolling shutter mode, and 6.2e- in global shutter mode. To further increase the sensitivity for low light level imaging, the devices support on-chip 2x2 binning. In addition, GSENSE2020 can be operated in standard 12bit mode with 70dB intra-scene dynamic range or in HDR mode with more than 87dB dynamic range. GSENSE2020's max frame rate is up to 376fps in 10bit global shutter mode, and the frame rate can be further enhanced by row-based ROI windowing capability.
Image Captured with BIGEYE
| | |
| --- | --- |
| Red Fluorescent Image | Green Fluorescent Image |
| Blue Fluorescent Image | Fused Fluorescent Image |
Packing Information for BigEye Series camera
Standard Camera Packing List

A

Carton L:52cm W:32cm H:33cm (20pcs, 12~17Kg/ carton), not shown in the photo

B

Gift box L:15cm W:15cm H:10cm (0.58~0.6Kg/ box)

C

BigEye series USB3.0 C-mount CMOS camera

D

High-speed USB3.0 A male to B male gold-plated connectors cable /2.0m

E

CD (Driver & utilities software, Ø12cm)

Optional Accessory

F

M42x0.75mm-mount to C-mount converter (If C-mount adapter is used)

G

M42x0.75mm-mount to F-mount converter (If F-mount lens is used)

H

Phototube to M42x0.75 mount adapter (U-TV1.2XT2) for Olympus microscope

I

Phototube to M42x0.75 mount adapter (MQD42120 MBB42120) for Nikon microscope

J

Phototube to M42x0.75 mount adapter (P95-T2 4/ P95-C 1" 1.0 x 3" 1.2x) for Zeiss Primo Star series , Zeiss Primo vert series microscope

K

Phototube to M42x0.75 mount adapter (11541510-120 HT2-1.2X) for Leica microscope

L

Phototube to M42x0.75 mount adapter (60N-T2 4/3" 1.2x) for Zeiss Axio series microscope

Note: For 4/3" sensor, 1.2X adapter with M42x0.75 mount should be chosen, for the 1.2" sensor, 1.0X adapter with C-mount could be used to get the better FOV;

M

Calibration kit

106011/TS-M1(X=0.01mm/100Div.);
106012/TS-M2(X,Y=0.01mm/100Div.);
106013/TS-M7(X=0.01mm/100Div., 0.10mm/100Div.)