Hardware resolution
1.3M to 16M
Standard C-Mount
USB2.0 interface
Ultra-FineTM color engine
UA is an Advanced USB2.0 CMOS camera. It adopts ultra-high performance CMOS sensor as the image-picking up device. USB2.0 is used as the data transfer interface.
UA hardware resolutions ranges from 1.3M to 16M installed in the aluminum alloy CNC compact housing. UA comes with advanced video & image processing application; Providing Windows/Linux/OSX multiple platform SDK; Native C/C++, C#/VB.NET, DirectShow, Twain Control API; The UA can be widely used in bright field light environment and microscope image capture and analysis with moderate frame rate.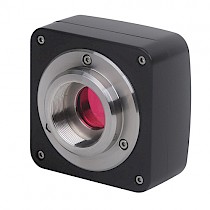 UA Series
Dimension of UA
The UA body, made from CNC tough, aluminum alloy, ensures a heavy duty, workhorse solution. The camera is designed with a high quality IR-CUT to protect the camera sensor. No moving parts included. This design ensures a rugged, robust solution with an increased lifespan when compared to other industrial camera solutions.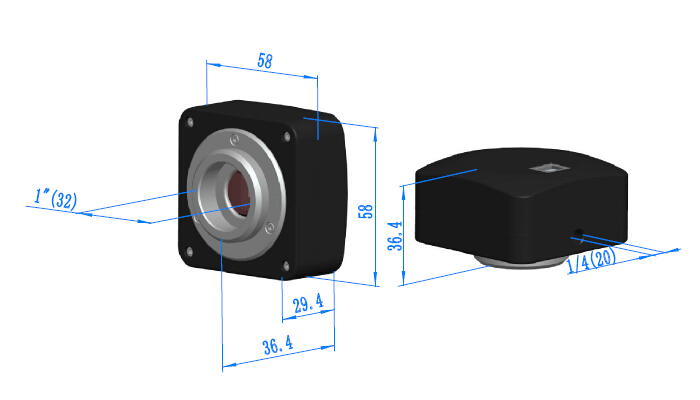 Dimension of UA
Extension of UA with Microscope or Telescope Adapter
Extension

Picture

C-mount Camera

Machine vision; Medical imaging;
Semiconductor equipment; Test instruments;
Document scanners; 2D barcode readers;
Web camera and security video;
Microscope imaging;

Microscope Camera

Telescope Camera:
Order Code

Sensor & Size(mm)

Pixel(μm)

G Sensitivity

Dynamic range

SNRmax

FPS/Resolution

Binning

Exposure

UA1600CA(New)

UP901600A

16M/MN34120(C)

1/2.33"(6.18x4.66)

1.335x1.335

R: 2453LSB

Gr: 2444LSB

Gb: 1054LSB

B: 996LSB

[email protected]
[email protected]
[email protected]

1x1

2x2

3x3

0.2ms~2000ms

UA1000CA(New)

UP901000A

10M/MT9J003(C)

1/2.3" (5.98x4.59)

1.67x1.67

0.31v/lux-sec

65.2dB

34dB

[email protected]
[email protected]
[email protected]

1x1

2x2

4x4

0.4ms~2000ms

UA510CA(New)

UP900510A

5.1M/MT9P006(C)

1/2.5" (5.70x4.28)

2.2x2.2

0.53 V/lux-sec

66.5dB

40.5dB

[email protected]
[email protected]
[email protected]

1x1

2x2

4x4

0.294ms~2000ms

UA310CA(New)

UP900310A

3.1M/MT9T001(C)

1/2" (6.55x4.92)

3.2x3.2

1.0 V/lux-sec

61dB

43dB

[email protected]
[email protected]
[email protected]

1x1

2x2

3x3

0.244ms~2000ms

UA130CA(New)

UP900130A

1.23M/SC1235(C)
1/3" (4.80x3.60)

3.75x3.75

4.5V/lux-sec

74dB

38dB

[email protected]
[email protected]

1x1,

1x1

0.1ms~2000ms
C: Color; M: Monochrome;
Other Specification for UA Camera

Spectral Range

380-650nm (with IR-cut Filter)

White Balance

ROI White Balance/ Manual Temp Tint Adjustment/NA for Monochromatic Sensor

Color Technique

Ultra-FineTM Color Engine/NA for Monochromatic Sensor

Capture/Control API

Native C/C++, C#/VB.NET, DirectShow, Twain and Labview

Recording System

Still Picture and Movie

Cooling System*

Natural

Operating Environment

Operating Temperature(in Centidegree)

-10~ 50

Storage Temperature(in Centidegree)

-20~ 60

Operating Humidity

30~80%RH

Storage Humidity

10~60%RH

Power Supply

DC 5V over PC USB Port

Software Environment

Operating System

Microsoft® Windows® XP / Vista / 7 / 8 /10 (32 & 64 bit)

OSx(Mac OS X)

Linux

PC Requirements

CPU: Equal to Intel Core2 2.8GHz or Higher

Memory:2GB or More

USB Port:USB2.0 High-speed Port

Display:17" or Larger

CD-ROM
Packing Information for UA
Standard Camera Packing List

A

Carton L:52cm W:32cm H:33cm (20pcs, 12~17Kg/ carton), not shown in the photo

B

Gift box L:15cm W:15cm H:10cm (0.5~0.55Kg/ box)

C

UA series USB2.0 C-mount CMOS camera

D

High-speed USB2.0 A male to B male gold-plated connectors cable /2.0m

E

CD (Driver & utilities software, Ø12cm)

Optional Accessory

F

Adjustable lens adapter

C-mount to Dia.23.2mm eyepiece tube
(Please choose 1 of them for your microscope)

108001/AMA037
108002/AMA050
108003/AMA075

C-mount to Dia.31.75mm eyepiece tube
(Please choose 1 of them for your telescope)

108008/ATA037
108009/ATA050
108010/ATA075

G

Fixed lens Adapter

C-mount to Dia.23.2mm eyepiece tube
(Please choose 1 of them for your microscope)

108005/FMA037
108006/FMA050
108007/FMA075

C-mount to Dia.31.75mm eyepiece tube
(Please choose 1 of them for your telescope)

108011/FTA037
108012/FTA050
108013/FTA075

Note: For F and G optional items, please specify your camera type(C-mount, microscope camera or telescope camera) , Jingtong engineer will help you to determine the right microscope or telescope camera adapter for your application;

H

108015(Dia.23.2mm to 30.0mm Ring)/Adapter rings for 30mm eyepiece tube

I

108016(Dia.23.2mm to 30.5mm Ring)/ Adapter rings for 30.5mm eyepiece tube

J

108017(Dia.23.2mm to 31.75mm Ring)/ Adapter rings for 31.75mm eyepiece tube

K

Calibration kit

106011/TS-M1(X=0.01mm/100Div.);
106012/TS-M2(X,Y=0.01mm/100Div.);
106013/TS-M7(X=0.01mm/100Div., 0.10mm/100Div.)