HDMI 2.0MP
12.5-inch 1080P HD screen
Multi-angle multi-joint rotation displayer
Two HDMI inputs
Three DC5V/2A USB interface
1.5m controller
Displayer integrated camera
CE210 is a professional imaging system of camera integrated with displayer, which uses high-performance CMOS on image capture and adopts high-resolution fog LCD to truly restore images. With multi-angle and multi-joint rotation, the display is designed flexibly and easy to use, which meets the requirement of fast and efficient inspection. Equipped with wired controller to facilitate operation.
Use 1/2.8 inch CMOS SONY IMX291 featured with ultra wide dynamic ,ultra low illumination and excellent color reduction, to help you get the sharpest image effect.
Complete solution - one device can realize multiple functions; equipped with 12.5 inches full HD displayer, display from different joint rotation and flip (rotate270 ° , flip120 ° ).At the same time, the front and rear space position can be moved, truly adapt to the best viewing angle without shaking;two HDMI signal inputs; three USB 5V2A external power supply interfaces can be connected to external lighting, saving adapter and space.
As a standard configuration, it provides built-in and efficient image capture software, which is convenient for you to use quickly.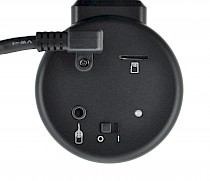 CE210 and its Back Panel
CE210's Display and its Back Panel
CE210 and its Microscopes
Dimension of CE210
Dimension of CE210
Packing List for CE210
Camera Specifications

Image Sensor

SONY CMOS IMX291super wide dynamic CMOS sensor

Expose mode

Rolling shutter

Maximum Resolution

1920x1080 (2,073,600 pixels)

Sensor Optical Format

1/2.8'' (6.058mm(H) x 4.415mm(V))

Pixel Size

2.9μm x 2.9μm

Dynamic Range

128dB

SNR(Signal Noise Ratio)

30dB

Spectral Characteristics

380~650nm

Exposure Capability

Real-time auto, Single auto, Manual adjustment

White Balance

Real-time auto, Single auto, Manual adjust R G B seperately

Display (preview) resolution

HDMI:1920X1080P60

Record format

Snapshot

Picture Format:JPG

Resolution: 1920x1080

Record

Video Format:MOV

Resolution: 1920x1080P30, 1280x720P60

Record Route

TF card(Maximum support 128G,Support hot plug )

Camera interface parameter

Camera Interface

C mount thread(1"×1/32)

Image output interface

HDMI TYPE C(Mini HDMI)

Monitor parameters

Size

12.5"

Type

a-Si TFT-LCD/IPS

Resolution

1920x1080

Color display

16.7M

Brightness

300 Nit

Contrast

800:1

Visible angle

170° horizontal & vertical

Power supply

Adapter: Input:AC100~240V/50~60Hz;Output:DC12V/5A/60W

Monitor:USB-A-Output:DC5V/2A×3

Image input interface

HDMI1,HDMI2